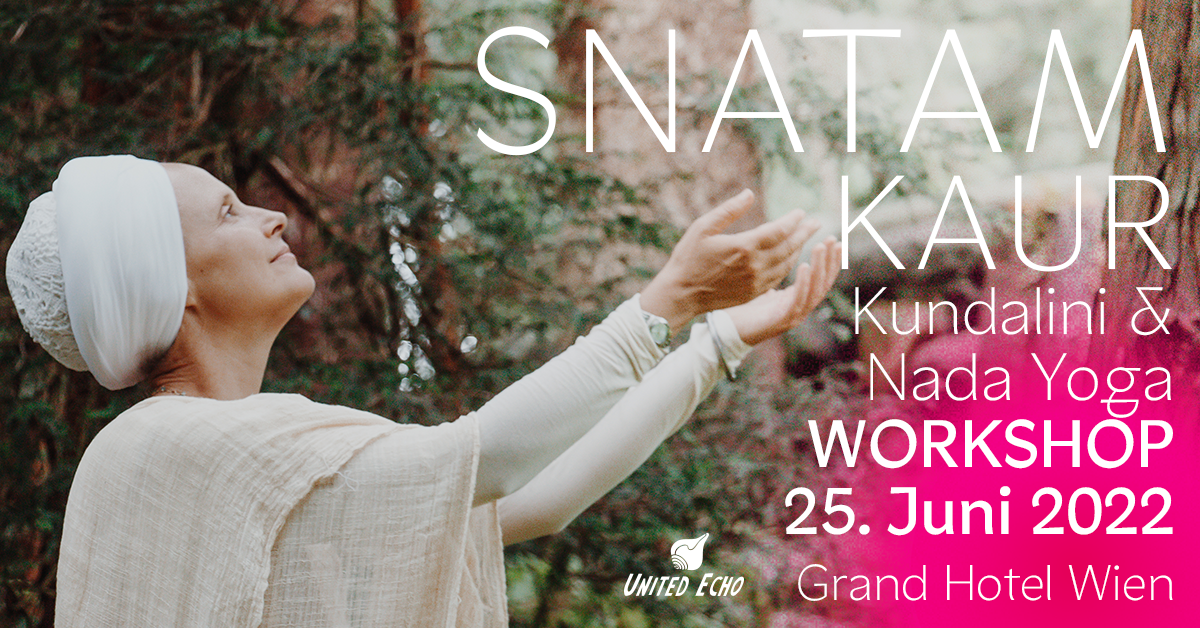 "There is a quiet, peaceful space within our hearts naturally. Yet we often carry and hold the baggage of past actions, future worries, and imaginary fears there instead, which creates an incredible amount o noise, pain and contraction in our lives that is unnecessary." - Snatam Kaur

After her first concert in Austria Snatam Kaur and her band: Grecco Buratto, Sukhmani Kaur Rayat, and Ram Dass Singh will host a very special Kundalini yoga and mantra singing workshop in Vienna.
Snatam Kaur will share tools of Naad Yoga, a practice of vibrating divine sound within us and then projecting it outward. It originates effortlessly, deep within the quiet space in the center of every human being, called "Anahat" or the unstuck sound, and then finds it's way through our thoughts, our words, our actions, our chants, and our songs. This sacred sound cuts through the illusion of the world like the sword of a fierce warrior, and also heals us with its energy of pure love so that we may truly experience peace in our hearts.
︎In this workshop we will practice Kundalini yoga, chanting and meditation. Please make sure to wear comfortable clothing, bring a water bottle and have a mat to practice yoga on.
Snatam Kaur is an American singer, Grammy nominee & performer in 2019, peace activist and author raised in the Sikh and Kundalini Yoga tradition. She has an amazing ability to transform traditional Sikh chants of India into a contemporary sound that appeals to the modern ear and awakens an ancient yearning in the soul.
Snatam Kaur & Band:
Snatam Kaur - Vocal, Harmonium
Grecco Buratto - Guitar
Ram Dass - Clarinet, Guitar, Vocals
Sukhmani Kaur - Tabla
Book your ticket and prepare yourself to immerse in the healing sounds of mantras. Sat Nam!
︎ Please also read the following important infos and covid rules:
The event can only be visited under all Covid19 protective measures valid on the day of the event. We will check these at the entrance and may refuse entry if necessary.

Please avoid any rubbish! We working with eco event standards and donate trees for climate justice. No alcohol or meat served. Please refrain from photos and videos. No liability is taken for wardrobe. For lost and found please contact the venue directly. Event subject to change.
Snatam Kaur
Kundalini & Nada Yoga Workshop Vienna 2022

︎ 25.06.2022, 13:00-16:00
︎ ATTEND EVENT

︎
TICKETS ︎
Early-Bird €111,00
SOLD OUT!
Standard €125,00
︎
Grand Hotel Wien
Kärntner Ring 9, 1010 Wien
︎In Zusammenarbeit mit: